INTELLIGENT
SOLAR POWERED SOLUTIONS
COST-EFFECTIVE AND ENVIRONMENTALLY FRIENDLY
If you're looking for a cost-effective, sustainable and environmentally friendly, off-grid bollard and lighting solution, Townscape's Solar bollard range is the answer.
Visible from 20 metres, manufactured in the UK using cutting-edge technology, our solar-powered bollards come with a 3-5 year warranty for peace of mind.
Solar LED bollards are solar powered illuminated bollards manufactured in Britain using cutting edge technology. The innovative bollards offer two levels of illumination, they provide continual illumination after dark at a low level and a higher level of illumination is automatically activated as a person approaches the bollard.
The lighting from Townscape LED Solar bollards is visible from 10 metres at the lower illumination level and 20 metres at their brightest setting.
Townscape solar bollards are self-contained, standalone bollards which require no electrical connections. They are designed with four vertical solar energy collection panels each with a power point tracking input to maximise solar energy gathering.
The solar cells powering the LEDs in Townscape's solar bollards are powered by ultra-violet (UV) light, rather than sunshine. This means that even on an overcast day the bollard can generate sufficient energy to sustain the full operation of the illumination system.
A fully charged solar bollard can provide continuous lower lighting level for up to 10 days without any charging. Each bollard can be fully charged in under eight hours of daylight.
Townscape solar bollards are ideal for walkways, cycle paths, car parks, educational campuses, parks and recreational grounds, retail and leisure facilities, housing estates, marinas and docks and city centre street scenes, Townscape Solar bollards economically and sustainably illuminate areas and pathways helping to increase safety and visibility.
SOLAR POWERED SOLUTIONS BROCHURE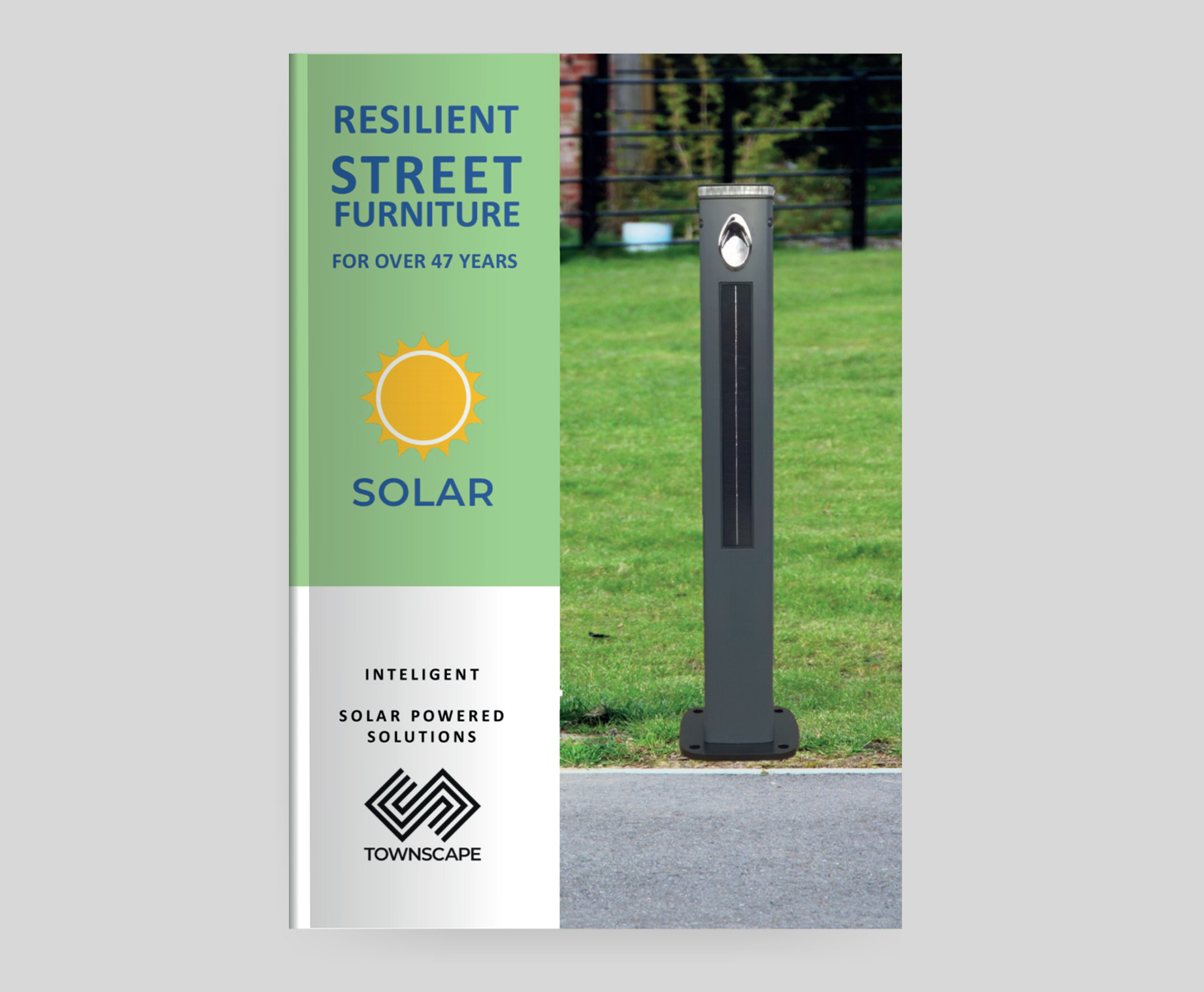 Cost-effective, sustainable and environmentally friendly, off-grid bollard and lighting solutions.
To speak to a member of our team about your project,
Please call us on: 01623 513 355
Or email us here: sales@townscape-products.co.uk
Enquiry Form
Fill in your details and we'll call you back.