Townscape provides perimeter protection
Townscape has supplied Saudi Arabia's newest international sports facility, King Abdullah Sports City, with its expert Hostile Vehicle Mitigation (HVM) system.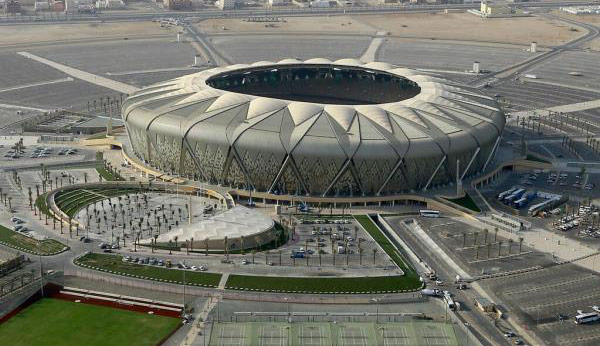 Townscape consulted with the Saudi Arabian based contractors, MSIX, Samsung SDS and Light Weight Building Company, to ensure the world class sports city is safeguarded from vehicle borne terrorist attacks. 600 of Townscape's PAS 68 Counter Terror Blocks were manufactured locally under an international licencing agreement and installed as part of a £1.2million contract.
Known as 'the jewel in the desert', and estimated to cost $507million, the 60,000 seat sports facility boasts the Kingdom's first FIFA standard football venue, a 2,000 seat multi-purpose indoor stadium and a 1,000 seat athletics pitch alongside a Mosque, hotels and sports hospital. It will also be home to Saudi Arabia's two Premier League Football Clubs.
A spokesperson for Townscape, said: "The King Abdullah Sports City is one of the most exciting developments in the Middle East which will attract thousands of visitors each year. It's a world class attraction which requires world class perimeter protection.
"Our Hostile Vehicle Mitigation specialists were asked to travel to the site to consult on how to ensure the venue and its visitors are protected from any vehicle borne incursions. The Townscape Counter Terror Block was the ideal solution, the 100mm low profile foundation is suited to the local terrain and the prestigious PAS 68 mark was a vital requirement specified by the owners to ensure the highest level of perimeter security was achieved.
"Counter Terror Blocks are used at many of the UK's major airports and leading tourist attractions and the team behind the King Abdullah Sports City were adamant the international venue achieved the same industry leading protection. It is an honour that Townscape's Hostile Vehicle Mitigation range has been recognised on an international level as the leading perimeter security solution."
Counter Terror Blocks for the UK and European markets, are manufactured at Townscape's Sutton-in-Ashfield factory, each weigh in at 2.2 tonnes and are made using a special mix of aggregates designed for ultimate strength. The Counter Terror Blocks only require minimal groundwork due to their low profile foundation, making them cost effective to install without compromising security. The blocks are positioned where a building is vulnerable to vehicular incursion and meet the PAS 68 standard for vehicle immobilisation.
The King Abdullah Sports City was officially opened by King Abdullah in May 2014 and is located 60km from Jeddah.